We all want our homes to look attractive and inviting, that includes the outside as well as in. After all, the first impression counts, and in this case, it's the curb appeal that matters.
Curb appeal, if it's not a term that you're familiar with is used to describe the overall appearance of a property from the street, and it can significantly impact the value of your home. Whether it's because you're looking to sell your home and want to get the best price possible for it, or simply want your home to stand out in the street – here are some of my easy ways to enhance your home's curb appeal on a budget.
Start with the front door
The front door is the focal point of your home's exterior, and it's the first thing that people notice. You don't have to completely replace it, but you can easily spruce it up in an hour or two. Consider painting it in a bold color that complements the rest of the house, an match it with a new doormat to welcome your guests.
Power wash your exterior
Power washing your exterior can make a big difference in the appearance of your home, especially if you have a front driveway or paved entrance. It can remove dirt, grime, and other debris that have accumulated over time, revealing the true beauty of your home's exterior.
Plant flowers
Adding colorful flowers to your front garden, entrance, or porch can add a pop of color and enhance your home's curb appeal. A couple of contemporary pots will do, and you can consider planting some low-maintenance annuals, such as marigolds or petunias in them, that'll bloom all season long.
Add outdoor lighting
Outdoor lighting not only adds curb appeal, but also enhances your home's security. Consider installing some solar-powered lights along your driveway or walkway to create a welcoming entrance to your home even after the sun has gone in.
Install window boxes
Window boxes are an easy and inexpensive way to add charm and character to your home's exterior. Fill them with flowers or greenery that complements the color of your home.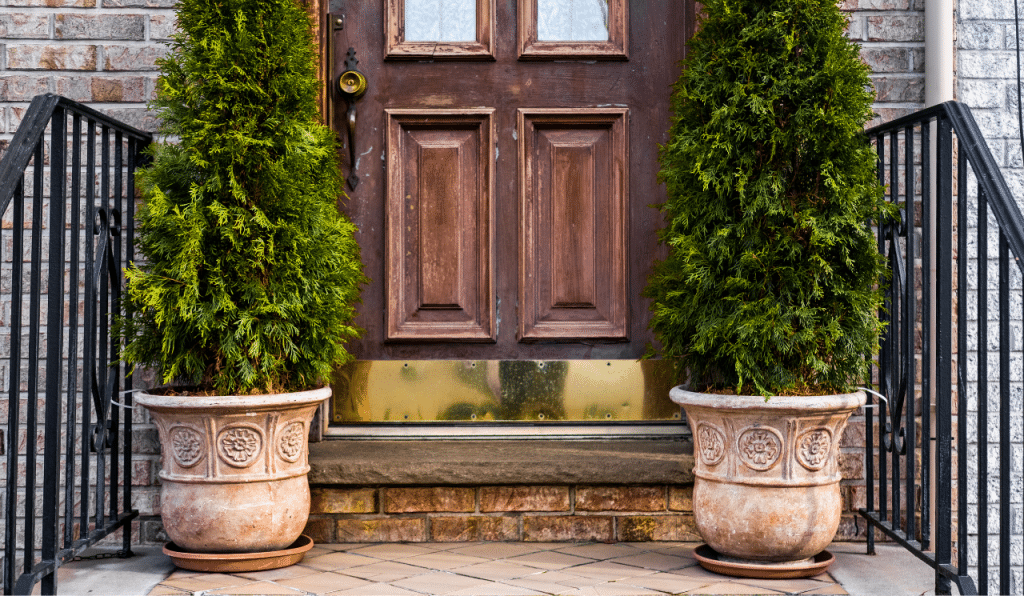 Create a focal point
Adding a focal point to your home's front exterior can draw attention away from any flaws and add interest. If space permits, consider adding a water feature, a sculpture, or a decorative trellis.
Trim and sweep
Clean up any overgrowth, sweep, and clean up any leaves and debris. Overgrown shrubs and trees can make your home's exterior look unkempt, so keep them trimmed and shaped to create a neat and tidy appearance. Simply sweeping up leaves and debris that may be littering the driveway can be done in just an hour and is virtually free apart from your time.
Add a fresh coat of paint
A fresh coat of paint on the exterior walls of your home can do wonders for your home's overall look. Consider repainting your front porch, shutters, or garage door in a color that complements the rest of your home. As long as you have a decent pair of ladders, you can do this yourself if have a weekend to spare with a couple of friends, then all you need to buy is the paint and brushes!
Clean your windows
Give your windows a good clean and buff the glass so that they have a nice shine. This will also help to let more light inside. Additionally, don't forget to wipe down the windowsills and window casing.
Add outdoor seating
Outdoor seating can make your home's exterior more inviting and encourage you to spend more time outside. Consider adding a bench, a rocking chair, or a small table and chairs to your front porch or yard.
In conclusion, enhancing your home's curb appeal on a budget is achievable with these easy tips. It doesn't take a lot of money or time to create a welcoming entrance to your home that can significantly impact your home's value. By following these simple steps, you can create an inviting exterior that reflects your style and personality.