Halloween is just around the corner, and you've probably been wondering about getting a costume sorted, whether it be for yourself, for the kids, or for the whole family. But there's no need to stress or break the bank over a store-bought, or rented costume. As with a bit of creativity and some everyday items, you can whip up fantastic DIY Halloween costumes that are easy, quick, and won't cost you an arm and a leg.
Let's dive into some fun Halloween costume ideas that anyone can DIY and put together in a snap.
Mummy
This list wouldn't be complete with this faithful favourite! Unroll your creativity with this classic and cost-effective costume. Grab an old white bedsheet or some gauze bandages. Wrap yourself up, leaving space for your eyes to peek through. Add some smudges of black makeup for an eerie touch. Voila, you're a mummy!
Bunch of Grapes
Blow up purple balloons and attach them to a green outfit to become a bunch of grapes. You can use safety pins or glue dots to secure the balloons to your clothing. Add a stem made from construction paper or a twig from the garden.

Nerd or Geek
Not that there's anything wrong with being a nerd or a geek, but it an be a fun theme to dramatise. This costume is not only easy but also a lot of fun, so grab a pair of suspenders, some oversized glasses, and high-waisted pants. Tousle your hair, add a few sticky notes, and carry a book or calculator for that "nerdy" touch.

Black Cat
A black cat costume is always a hit for Halloween. All you need is an all-black outfit, a headband with cat ears (easy to make from cardboard and black fabric), and some eyeliner to draw a cute kitty nose and whiskers.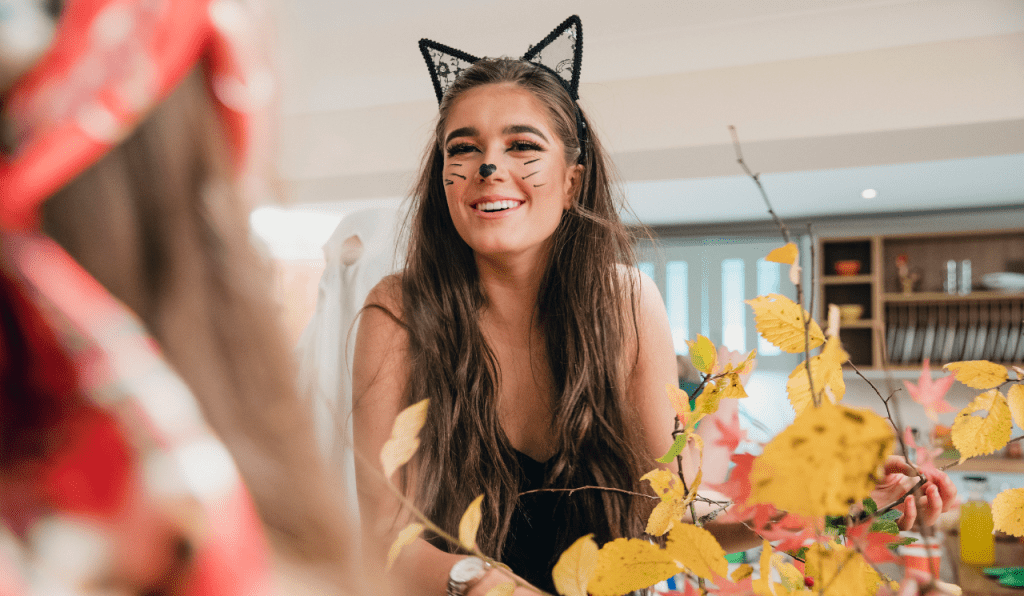 Crazy Cat Lady
This one is sure to get some laughs. Put on your most mismatched, colorful, and oversized clothes. Use a robe, fuzzy slippers, and add stuffed cats (or plush toys) all over your outfit. Don't forget a wild hairstyle and some oversized glasses.

Minion
Become one of Gru's beloved minions with a yellow shirt, overalls (or blue jeans), and some black gloves. Craft your own minion goggles using plastic cups and black pipe cleaners. Finish the look with a bit of hairspray to spike up your hair.

Emoji
Choose your favorite emoji and create a cardboard cutout of it to wear as a mask. Pair it with an outfit that matches your chosen emoji. You can be a heart, a ghost, a smiley face, or any other emoji you fancy.
Scarecrow
Raid your wardrobe for a flannel shirt, a pair of old jeans, and a straw hat. Apply some smudged makeup and use eyeliner to draw stitches on your face. Stuff some straw or raffia into the cuffs and collar, and you're ready to be the friendliest scarecrow in town.
404 Error
Embrace your inner techie with a "404 Error" costume. Wear a regular outfit and create a sign that reads "404 Error: Costume Not Found" to hang around your neck. It's a clever and humorous costume for the internet-savvy.

Jellyfish
Get ready to make a splash with this creative costume. Attach a string of battery-powered LED lights or glow sticks to an umbrella and drape sheer fabric or streamers from the edges. When you walk, the "tentacles" will give the illusion of a floating jellyfish.
Cereal Killer
This punny costume is both easy and amusing. Attach small cereal boxes to an old shirt, and splatter them with fake blood. Carry around a plastic knife to complete the "cereal killer" look.
Ghost
This timeless and budget-friendly costume is perfect for a quick Halloween fix. Simply find an old white sheet, cut out eye holes, or paint some on, and throw it over yourself. Add some chains or spooky accessories for a haunting effect.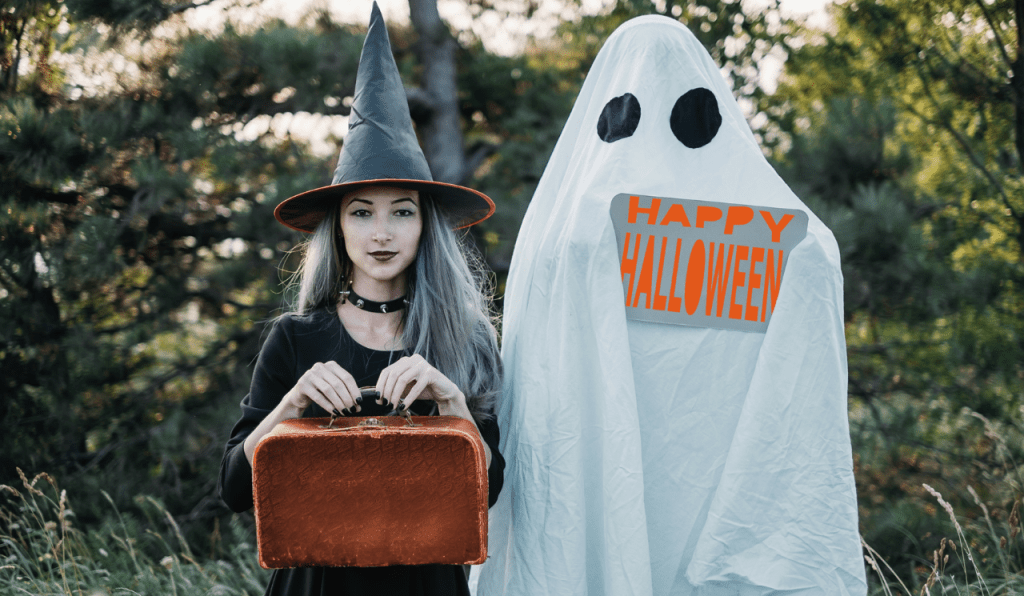 Playing Card
Grab a large piece of cardboard and paint it to look like a playing card. Use black paint to create the card's design (hearts, diamonds, spades, or clubs). Then, attach the cardboard to your body using straps or suspenders.

Static Electricity
This one is shocking! Dress in all black, tease your hair to create a frizzy look, and use hairspray to make it stand up. Then, attach small items like socks, paper, and plastic cutlery to your clothes to mimic the effect of static electricity.

Smart Cookie
Show off your smarts with a "Smart Cookie" costume. Attach a large cardboard cookie shape to your outfit, write "Smart" on it, and carry a small diploma or a book. You're the cleverest cookie in the jar!

There we have it, my 15 ideas for DIY your own Halloween costume at home. It's true, Halloween doesn't have to be a stressful or expensive holiday when it comes to costumes. With these easy, quick, and cheap DIY costume ideas, you can have a blast creating your Halloween look without breaking the bank. So whether you go for classic choices like a mummy or a ghost or opt for quirky options like a cereal killer or a bunch of grapes, your homemade costume is sure to impress and add a touch of creativity to the spooky season. So, grab your craft supplies, get inspired, and have a wickedly fun Halloween!