As an experienced home interior designer residing in England, I have had the pleasure of styling numerous guest bedrooms. A guest bedroom is a fantastic addition to any home as it provides a comfortable and private space for guests to stay. Having a guest bedroom decorated and furnished ready to use at a moment's notice is not only practical, but it can also enhance the overall aesthetic of your home.
When it comes to styling a guest bedroom, there are a few key tips to keep in mind. You want to create a space that is comfortable and inviting, while also being neutral enough to accommodate any guest. Here are my top tips for styling a guest bedroom:
Keep it neutral
When it comes to decorating a guest bedroom, it's best to keep things neutral. This doesn't mean that you can't add pops of color or interesting textures, but you want to avoid anything too bold or overwhelming. Stick to a neutral color palette for the walls, bedding, and curtains, and then add interest with accessories like decorative pillows, throws, and artwork.
Invest in quality bedding
One of the most important aspects of a guest bedroom is the bedding. Invest in high-quality bedding that is comfortable and durable. Opt for cotton sheets with a high thread count, and provide a range of pillows and blankets to accommodate different sleeping preferences. Consider adding a decorative throw at the foot of the bed for an extra touch of comfort.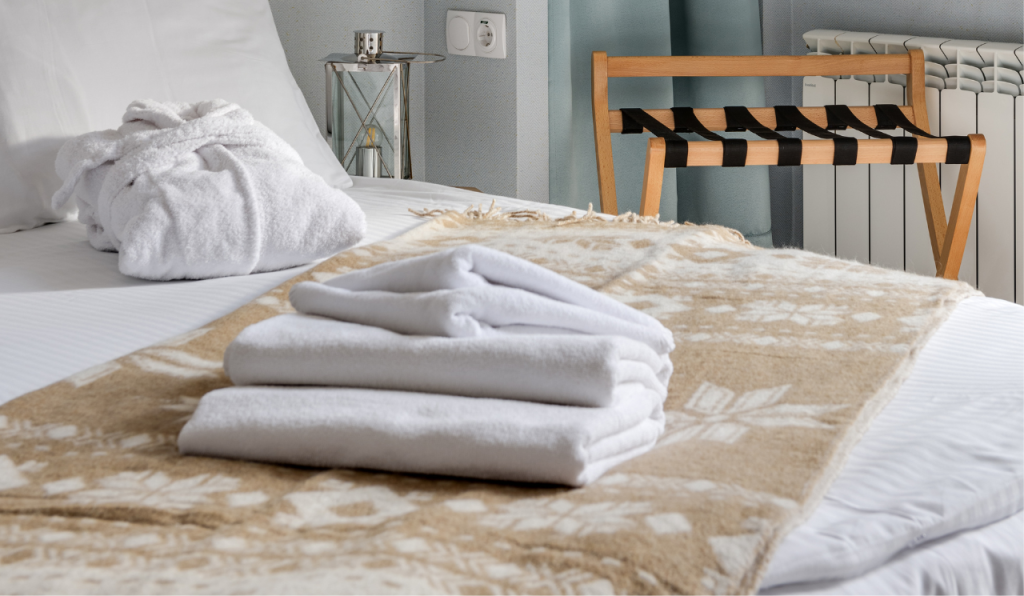 Add storage
Guests will appreciate having a place to store their belongings, so be sure to provide ample storage in the guest bedroom. A dresser or chest of drawers is a great option for storing clothing, while a luggage rack or bench can be used to store suitcases and bags.
Provide seating
Depending on if your spare bedroom is big enough, adding a comfortable chair or bench is a great addition to a guest bedroom. It provides a place for guests to sit and relax, and can also be used for reading or getting dressed. If space allows, consider adding a small table or desk where guests can work or use their laptop.
Pay attention to lighting
Good lighting is essential in any bedroom, but it's especially important in a guest bedroom. Provide a range of lighting options, including overhead lighting, bedside lamps, and task lighting. Be sure to include blackout curtains or blinds to help guests get a good night's sleep.
Add personal touches
While you want to keep the guest bedroom neutral, it's also nice to add a few personal touches to make it feel welcoming. This could be a vase of fresh flowers, a few books or magazines, or a basket of snacks and bottled water. Consider adding a few framed photos or artwork to the walls to make the space feel more homey.
Consider the layout
Finally, when styling a guest bedroom, consider the layout of the space. Make sure there is enough room for guests to move around comfortably, and that there is easy access to storage and seating. If space allows, consider adding a small sitting area or vanity to make the space even more functional.
In conclusion, styling a guest bedroom is all about creating a comfortable and inviting space that can accommodate any guest. Keep things neutral, invest in quality bedding, provide ample storage and seating, pay attention to lighting, add personal touches, and consider the layout of the space. By following these tips, you can create a guest bedroom that your guests will love and appreciate, and that will enhance the overall aesthetic of your home.