Your house number is one of the most important things to have clearly displayed at the front of your home. It's essential for visitors, deliveries, and emergency services to find your address without any issues. But why settle for a boring and standard house number on your front door or mailbox? There are so many creative and unique ways to display your house number that can add charm and character to your home's exterior. In this blog post, we'll explore some of the most innovative and stylish ways to display your house number.
House Number Planter
If you love gardening, then this idea is perfect for you. A house number planter can add a touch of greenery and color to your front porch, and it's also an excellent way to display your house number. All you need is a wooden planter box, some soil, and plants of your choice. You can use succulents, herbs, or colorful flowers to make your planter look attractive. Simply add your house number to the front of the planter, and you're done!
Mosaic House Number
Create a unique and eye-catching display by using mosaic tiles to make your house number. You can buy mosaic tiles in different colors and sizes and then arrange them to form your house number. You can make your mosaic on a wooden plaque, a metal sheet, or even on a stone slab. Not only is this a stylish option, but it's also a fun DIY project to work on.
Rustic Wooden House Number
A rustic wooden house number is perfect for a home with a farmhouse-style exterior. You can create your wooden house number by cutting out the numbers from a wooden plank or a piece of reclaimed wood. Sand the edges and paint the numbers with white or black paint, depending on your preference. You can hang your wooden house number on the front door or mount it on a wooden post for a more rustic look.
Illuminated House Number
An illuminated house number is perfect for homes that are difficult to find at night. You can use solar-powered lights or battery-powered LED lights to illuminate your house number. You can buy pre-made illuminated house numbers or make your own by using stencils to cut out the numbers from a sheet of metal or acrylic. Attach the lights to the back of the numbers, and you'll have a house number that's visible even in the darkest of nights.
Vintage House Number
If you love all things vintage, then a vintage-style house number is perfect for you. You can buy vintage-style house numbers online or in antique stores. These numbers are usually made of metal or ceramic and have a distressed or aged look. You can mount your vintage house number on a wooden plank or an old metal frame for an authentic vintage display.
Stenciled House Number
If you're on a budget, stenciling your house number is an excellent option. You can buy stencils online or make your own by printing out the numbers on cardstock and cutting them out. Use spray paint or acrylic paint to stencil your house number onto your mailbox, front door, or a wooden plank.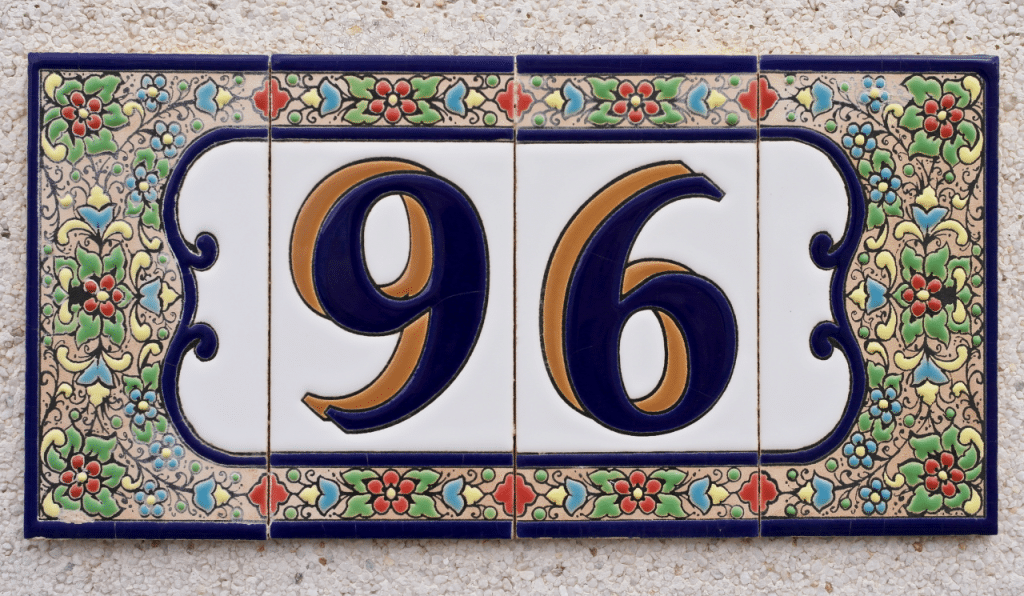 Tile House Number
Tile house numbers are another stylish and creative option. You can use mosaic tiles or ceramic tiles to make your house number. Arrange the tiles in your desired pattern, and then glue them onto a wooden plank or a metal sheet. You can also add a border around your tile house number to make it look more polished.
In conclusion, there are many unique and creative ways to display your house number, and each one adds a personal touch to your home's exterior. By choosing a method that suits your taste and matches your home's aesthetic, you can make your address easily visible to visitors and delivery drivers while also adding some extra style to your home. With so many options available, there's no reason to settle for a boring or unattractive house number display. Whether you opt for a hanging planter or a DIY mosaic, your house number can become an artful and functional feature of your home. So go ahead and get creative with your house number display and make your home stand out on the block!